The New Jersey First Steps Infant/Toddler Initiative was created to assist early educators in offering the very best possible care for New Jersey's youngest citizens.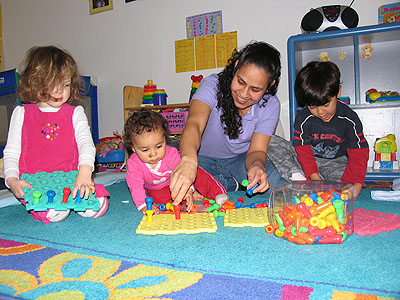 NJ First Steps is for early care providers interested in establishing, improving and expanding services to infants and toddlers. These services include:
Professional Development: Topics are delivered by specialized trainers to present best practice standards in infant and toddler brain development. Education enables providers to work toward the NJ Infant/Toddler Credential.
Technical Assistance & Consultation: The Infant/Toddler Specialists serve as mentors to new and experienced early educators. Services provided include: telephone and on-site support, site observations, assessments, and development of a plan of action.
Resources & Materials: Programs for Parents has a resource library where early care providers can access education in the form of DVDs, videos, equipment and other essential learning materials.
Community Partnerships: Community and statewide organizations are stakeholders committed to improving the quality of life and early education for young children. These groups include Child Care Aware of New Jersey (CCANJ), the Coalition of Infant/Toddler Educators (CITE), the NJ Association of Infant Mental Health (NJAIMH), NJ Early Intervention System (NJEIS), health care organizations, higher education, government, business, local school districts, parents and others.
If your child care provider is not currently participating in NJ First Steps encourage them to do so by sharing this NJ First Steps Brochure.
Click here for the NJ First Steps introduction letter. Click here for our NJ First Steps Application.