Grow NJ Kids is a rating and improvement system designed to assess child care and early learning programs, provide training and incentives to improve them, and communicate their level of quality to the public. VISIT WEBSITE.
Any program regulated by the State of New Jersey will be eligible to participate, including:
Child Care Centers
Family Child Care Programs
School District Preschool Programs
Preschools
Head Start Programs
Grow NJ Kids is a state-sponsored initiative to raise the quality of child care and early learning throughout New Jersey. Grow NJ Kids gives child care and early learning programs resources to assess and improve their programs, while providing parents with information that allows them to evaluate the quality of programs and make the best choices for their child. The goal is to create a system that encourages ongoing improvement.
Search for Grow NJ Kids Rated Programs
All Grow NJ Kids business is conducted in the New Jersey Child Care Information System (NJCCIS). To enroll in Grow NJ Kids you must have a NJCCIS account. You can submit a Grow NJ Kids enrollment request using these instructions. (Enrollment instructions will pop up as a PDF)
Infant Toddler Specialist Network
The NJ Department of Human Services, Division of Family Development (DFD) funds the Infant Toddler Specialist Network through Child Care Resource and Referral Agencies serving every county. Infant Toddler Specialists work with child care professionals (registered family child care providers and child care center staff) to:
Strengthen the quality of infant and toddler care – to offer a setting that best promotes the healthy development of New Jersey's youngest children.
Support age-appropriate activities and approaches to learning and child development
Offer suggestions and strategies to meet common challenges
Expand the availability of infant and toddler care in every community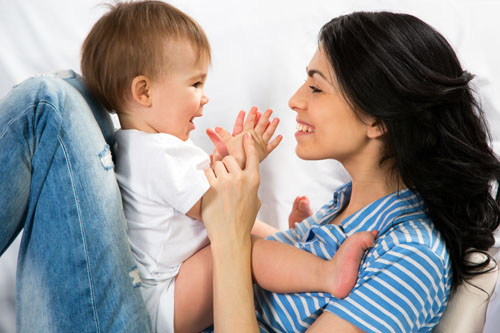 The infant and toddler specialist is for early care providers interested in establishing, improving and expanding services to infants and toddlers. These services include:
Professional Development: Topics are delivered by specialized trainers to present best practice standards in infant and toddler brain development. Education enables providers to work toward the NJ Infant/Toddler Credential.
Technical Assistance & Consultation: The Infant Toddler Specialists serve a mentor to new and experienced early educators. Services provided include: telephone and on-site support, site observations, assessments, and development of a plan of action.
Resources & Materials: Child & Family Resources has a resource library where early care providers can access education in the form of DVDs, videos, equipment and other essential learning materials.
Community Partnerships: Community and statewide organizations are stakeholders committed to improving the quality of life and early education for young children. These groups include Child Care Aware of New Jersey (CCANJ), the Coalition of Infant/Toddler Educators (CITE), NJ Workforce Registry, the NJ Association of Infant Mental Health( NJAIMH), NJ Early Intervention System (NJEIS), health care organizations, higher education, government, business, local school districts, parents and others.
CLICK HERE for more information about the Infant Toddler Specialist or contact our at office at (973) 601-6144.
Technical Assistance from the Child Care Health Consultant
Child Care Health Consultants are available to assist licensed child care centers and registered family child care providers. Providers that accept the NJ Child Care Subsidy Program and/or that are enrolled in Grow NJ Kids will be given priority. To get targeted technical assistance, contact Central Jersey Family Health Consortium at 1-888-999-1780 or cchc@cjfhc.org.
Our virtual services include:
Training on advanced health and safety topics include keeping healthy in child care during the COVID-19 pandemic, safe medication administration, child safety and injury prevention, food allergies, special diets and feeding issues, working with children with special needs and more.
Health and safety informational huddles on child health and safety topics.
Technical assistance and consultations including online consultations on best practice standards of health and safety in child care, assistance with the implementation of COVID-19 guidance and assistance with the development of policies and procedures, personal care routines, immunization and health records.
Providing health and safety resources and referrals.


For more information and to register log into your NJCCIS account and use the advanced search to search by "Training Agency",
select "Central Jersey Family Health Consortium".
Accreditation
Achieving accreditation involves extensive self-study and validation by professionals outside the program to verify that quality standards are met. Research has demonstrated that accreditation positively impacts early and school-age care program quality, including benefits to children, families, and staff.
NAEYC works together with program staff across the country to implement best practices and develop a consistent understanding of how to achieve and maintain high quality.
NECPA encourages early care programs seeking to improve or receive recognition of their high quality care, to enroll for NECPA Accreditation. NECPA accredits all types of programs; center-based, family home, ministry or faith-based, and university centers, among others. NECPA does not require a specific curriculum type to become accredited, all forms of care are welcome!
National Accreditation Commission for Early Care and Education Programs provides a comprehensive ongoing quality improvement system that acknowledges the diversity of programs through the self-study and award process. Over 1,500 early learning programs in 38 states, DC and overseas participate in the Accreditation process. These include but are not limited to university and college campus-based programs, private child care, faith-based preschools, head starts, public preschools, corporate centers, DoD programs, and employer-sponsored programs.